 IDOLAAT!
Idolaat! is speciaal geschreven voor kinderen van het voortgezet onderwijs (12 tot ca. 16 jaar). In Idolaat! draait alles om de vergankelijkheid van roem. Tegen het aansprekende decor van een talentenjacht (vrij naar X-factor, Idols en The Voice of Holland) ontspint zich in ongeveer een uur tijd een verhaal waarin duidelijk wordt dat 'beroemdheid' nog geen garantie is voor geluk. Idolaat! is een popsical – een muzikale (theater)productie waarin het verhaal vooral verteld wordt door middel van popliedjes. Er vindt relatief weinig gesproken woord of dialoog tussen de liedjes plaats. Uniek is de multifunctionele toepassing vanwege keuze in begeleiding: - orkest +combo(variabele bezetting) - orkestband (ook voor uitvoeringen) - combo De school ontvangt een compleet kader om de popsical uit te kunnen voeren, met ruimte voor aanpassingen en eigen inbreng van leerlingen en docenten. Idolaat! biedt mogelijkheden tot samenwerking in vakken, te denken valt aan muziek, beeldend (ckv), nederlands, techniek. Daarnaast valt te denken aan het verbinden van theater, muziek, dans, beeldende kunst, literatuur en vakoverstijgende thema's.
Specifications
Formation:
Flexible Instrumentation (combo, children's choir, vocal soloïsts)
About the composer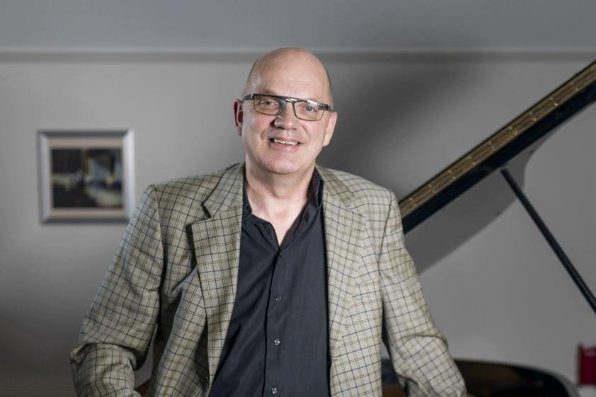 Jacob Haan, de
Jacob de Haan is a contemporary composer known for wind music. He has also published various vocal works, including a number of masses for choir, wind band and soloists. His international breakthrough came about with Oregon, his most performed composition. In the United States, De Haan has made a name for himself with Ammerland.De Haan is regularly invited as a guest conductor for performances of his own work. He also gives master classes and acts as a jury member at international competitions. He is active in many European countries in addition to Australia, Singapore and the USA. In Germany, he has worked at the Bayerische Musikakademie (Bavarian Music Academy) and the Bundesakademie für musikalische Jugendbildung (Federal Academy for Musical Youth Education) in Trossingen. De Haan works with several professional orchestras and bands, as well as celebrated vocalists.
More from this composer