 Those Gazing Eyes
Those gazing eyes is a programmatic work: We see a child gazing into the distance, slowly we enter his fantasy. An oriental dance with virtuoso solos is juxtaposed with a daydreaming theme. From this fantasy we are transported to a musing parent. Who, at first, is worried about the future of his son. Episodes of sighing and sadness lead to a solemn statement of hope. Again we see the gazing child, this time slowly entering a daydream where the main theme is fully exposed. However, as an onlooker, we will never know the full extent of these dreams. So for us, it is back to reality.
Those Gazing Eyes was in the final of the 2016 Cory Composition Prize.
About the composer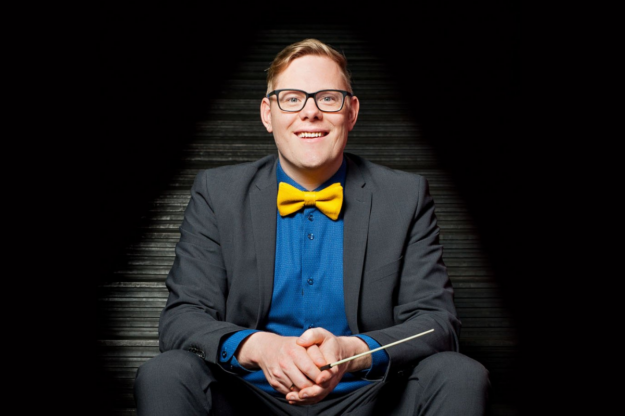 Geert Jan Kroon
I am Geert Jan Kroon (1981): a motivator, inspirator and creative optimist. My goal is to inspire musicians in such a way that they show the best of themselves and more. In my work as a conductor, composer and coach I always start from possibilities; not of limitations. A conductor creates the conditions for making beautiful music and from that role I want to facilitate musicians to use their qualities and talents in such a way that they lift the entire orchestra. I studied Art, Culture and Media at the University of Groningen with a master's degree in Musicology in Utrecht (diploma 2012). Since then I have developed my own style as a conductor, composer and musical entrepreneur. The ideas of the conductor Benjamin Zander have inspired me in this. As artistic director of the project Lûd fan de Middelsee, I have experienced that it is possible to motivate 250 musicians to give an enchanting concert in the open air for 40 minutes. Lûd fan de Middelsee's motto was "reinvent yourself", a slogan that suits me well, because I am always looking for growth, development and new ideas to try out. I also want to stimulate that passion in others. As a coach, I challenge conductors, composers and musicians to look at their own work from a different perspective. I provide tools and open doors to new approaches. New opportunities arise for me through my study of compositions at the ArtEZ conservatory. In my compositions, I like to use techniques from contemporary music that are less common for concert bands, fanfare bands and brass bands. This gives my music its own sound and it is still accessible to the general public. In short, I want to get the best out of myself, the musicians I work with and I want to inspire colleagues with new perspectives. But above all, I want to inspire people with my passion for music. Or as Zander puts it: success is measured by how many glittering eyes you see around you.
More from this composer