 A Sweet Heart (Simpatija) for Accordion & Concert Band
Brightly piece for accordion and concert band A Sweet Heart (lithuanian Simpatija) captures audiences through the powerful solo performances and can engage and entertain your audience or blend effortlessly into the background to provide perfect ambiance.
Specifications
Formation:
wind band / solo accordion/ alternative version available for solo 2 Trumpets (cornets) and concert band
Language:
English, Lithuanian
About the composer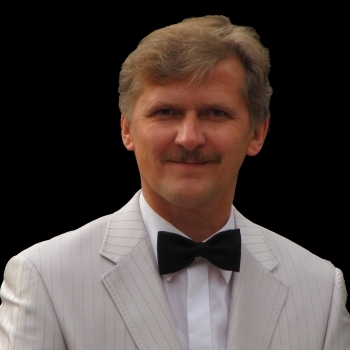 Kazys Daugėla
Kazys Daugėla is an award-winning composer-arranger, a conductor and an associate professor at the Lithuanian Academy of Music in Vilnius. He was born in 1960 and grew up in Priekulė, near Klaipėda. After learning the fundamentals of music at the St. Šimkus Music High School in Klaipėda, he began a five-year music course at the Lithuanian State Conservatory in 1979. He studied oboe, conducting, arranging, and composing. For several years Daugėla played oboe in the Light Music Orchestra of the Lithuanian National Radio and Television and in the Lithuanian State Wind Band "Trimitas." Daugėla teaches conducting, scoring, music history and arranging at the Lithuanian Academy of Music in Vilnius. He composes in many styles, including pieces for wind ensemble, pop songs, and children songs. In 1983, his Intermezzo for concert band won a state award, and in 1990 his arrangement of the Lithuanian State Anthem was awarded the Grand Prix. He has arranged over 700 pieces of other composers for the Lithuanian Army Band, "Trimitas" and other bands. In 1998 his march "Homeland Calls" for concert band won the first place award in the contest for best military march. His march "The Young Oak" is listed in the best world marches encyclopedia March Music Notes by Norman E. Smith. In 2011 his choral fantasy "St.Casimir Chorale" won in the contest for the best composition. The repertoire of the State Wind Orchestra "Trimitas" and Lithuanian Army Band includes a great number of his compositions and arrangements. Besides being a prolific band composer, he is very much in demand as an adjudicator, lecturer, clinician and a guest conductor. His musical activities have brought him to almost all European countries, where his compositions are much appreciated and frequently performed.