 Innovation 216
Words by Jennifer Henderson, and past and present members of Bristol's aerospace industry
Innovation 216 was commissioned by Bristol800, part of 'The Art of Flight' series at St George's Bristol. It was first performed on Sunday 27 November 2016 at St George's Bristol by Lydbrook Band, City of Bristol Training Band, Lydbrook Training Band, Lydney Training Band, Gurt Lush Choir and UWE Singers, conducted by Ian Holmes.
Programme notes:
Innovation 216 is a celebration of the beauty of flight through aspects of Bristol's aerospace history, from the earliest Bristol Boxkite Biplane to the Blenheim Light Bomber, the Brabazon and Britannia, and Concorde.
Sounds of the aeroplanes as a timeline are represented within the brass and percussion, in particular wood of the early planes, progressing to metal, the rumble and anticipation of engines preparing for take-off, followed by a perspective of Concorde flying high, floating as though a bird (and a nod to the sound of the 'sonic boom').
Other aspects of flight can be heard throughout the piece such as the Doppler effect, particularly in the percussion. Musical motifs are based around the notes B, A, and C (Bristol Aeroplane Company, Bristol Aero Collection and Aerospace Bristol), heard at the beginning and the end, where the numbers '216' are also incorporated.
The title, Innovation 216, celebrates the innovation of Bristol's aerospace industry and also relates to Concorde 216, the last Concorde built, the final one assembled and flown at Filton, and the last ever to fly, returning to Filton from Heathrow Airport on 26 November 2003. In addition, the music marks the 150th anniversary of the Royal Aeronautical Society in 2016.
I am hugely grateful for the expertise of members past and present from Bristol's aerospace industry who gave up their time to help with historical and contextual research, and also provided quotes reflecting on the future of aviation, some of which are sung by the choir in the final section.
Liz Lane, 2016. www.lizlane.co.uk
Selected audience feedback:
"an immersive, memorable and moving love letter to Bristol's aviation story…. stunning brass writing"
"The melodies continue to run through my head and it was a truly inspirational piece that made for a very fitting tribute to aviation in Bristol."
 "It was thrilling…. It's a beautiful piece, deceptively simple, cumulatively rich."
"Innovation 216 was a wonderful sound and so effective…."
"Once again I am deeply jealous of all those soaring themes.... *sigh*..."
"Your piece was lovely. Some glorious sounds, themes and effects that encapsulated the brilliance and excitement of the ongoing Bristol aerospace heritage."
"Thought your composition was really fabulous. Very evocative of chirpy old aeroplanes to subsonic giants whispering and then the booms and calmness of high supersonic speeds at very high altitudes…."
"what a great piece Innovation 216 is"
"One of the most amazing pieces of music I've ever had the privilege of playing…. For anyone who enjoys descriptive music you won't find anything more illustrative than Innovation 216, well done to the composer.... truly stunning, can't wait to play it!"
"Innovation 216 is superb"
"Totally loved Innovation 216. Thank you Dr Liz Lane"
"….even better than I anticipated…..and I thought it would be amazing! Loved every minute!"
"Such an amazing piece of music."
"I'm still singing Concorde! A beautiful piece"
"Lovely concert last night, really enjoyed hearing the full effect of Innovation 216… once again Liz your imagination and concepts amaze me…"
"Beautiful expressive music…."
Specifications
Formation:
Brass band, optional training bands, optional choir (SATB)
Grade:
Championship / first section; easy-medium (ABRSM grades 2-4); community choir
Publisher:
Composers Edition
About the composer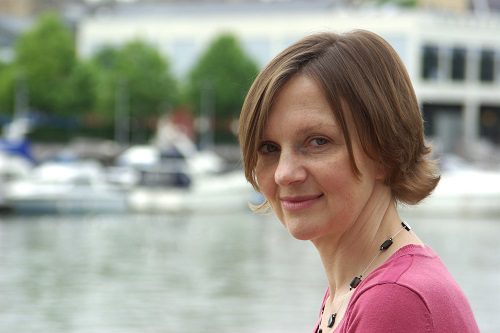 Liz Lane
Liz Lane is a British composer whose music has been described as "creatively brilliant [4barsrest.com], "easily appealing, yet musically reputable" [Musical Times] and "spell-binding... touched the very core of one's heart" [David Fanshawe, composer and explorer]. Her style is frequently melodic but seldom predictable, with an appeal that enables her to write for performers of all abilities and diverse occasions. Liz's music has been broadcast on BBC1, ITV and Radio 3, and her many diverse works to date have ranged from a fanfare based on bugle calls from the American Civil War premiered in Virginia, USA; a 40th wedding anniversary song cycle, recorded and performed at a surprise party and a full length ballet for the London Children's Ballet. Liz's acclaimed first substantial work for brass band, 'Silver Rose', was written in 2014 to commemorate the anniversary of the start of World War 1, and premiered by Lydbrook Band, conductor Ian Holmes, with narrator Robert Hardy CBE at Bristol Museum and Art Gallery, since receiving several repeat performances including Aldeburgh and Birmingham. It was re-written in 2016, with research support from the University of the West of England where she is a part-time Senior Lecturer, for the first performance of the South-West Open Youth Orchestra, the UK's only disabled-led regional youth orchestra and subsequently winners of the RPS Music Award – learning and participation. 'Innovation 216', celebrating Bristol's aviation history, was premiered in 2016 by massed bands and choirs of 270 aged 8-80 at St George's Bristol and will receive a repeat performance at the hall's re-opening in February 2018. 'Antiphonary', inspired by Berkeley Castle in Gloucestershire, England, has been performed at Barcelona and Murcia Cathedrals, by Foden's Band at Bury St Edmunds Festival and Frank Renton's Brass Machine at the Butlins Mineworkers Contest in 2017. Her most recent work, 'Tide and Time', will be premiered by Foden's Band at the RNCM Brass Band Festival in January 2018.
More from this composer