 Silver Rose (narrator, 2 Eyegaze, Linnstrument and piano 4 hands)
Words by Isaac Rosenberg [1890-1918]
This version of Silver Rose, especially adapted for the first ever performance of the South-West Open Youth Orchestra, the UK's first and only regional led disabled youth orchestra (www.openupmusic.org), was enabled through a University of the West of England Faculty of Environment and Technology Public Engagement and Outreach Award.  First performed by Lydbrook Band, UWE Singers and members of the South-West Open Youth Orchestra, narrator Barry Farrimond, conductor Ian Holmes, Bristol Cathedral, 16 April 2016.
Silver Rose was commissioned by Bristol2014 (Bristol Cultural Development Partnership) with funding from Arts Council England and first performed by Lydbrook Band, conductor Ian Holmes, narrator Robert Hardy CBE, Bristol Museum and Art Gallery, 9 November 2014.
Programme notes:
Silver Rose is a musical response to five poems by Bristol born poet Isaac Rosenberg (1890-1918), who died in action during World War 1. Working collectively like a song cycle, the poems are read before and during each of the five musical movements; the lyrical line can be clearly traced in the first, third and fifth (On Receiving News of the War, A Careless Heart and Song) whereas the second and fourth (Beauty and Returning, We Hear the Larks) are a more dramatic and aesthetic reflection. The choice of texts for the musical settings echo perspectives including the atrocities of war and hope for peace.
The title, Silver Rose, takes its name from two sources. The 1914 Star was a British campaign medal awarded to men who served in France or Belgium between 5th August and 22nd November 1914. Those who fought under enemy fire were also entitled to a bronze horizontal clasp engraved with the above dates and could attach a small silver rose to the ribbon when not wearing the medal. The final movement of the work, Song, also includes the words 'silver rose'. 
Liz Lane, 2014. www.lizlane.co.uk 
Selected audience feedback:
"….what more can I say about the emotive Silver Rose - the new version with the added parts just took it to another level"
"The evolving nature of 'Silver Rose' is marvellous and it was fascinating to hear the adaptations you have made for all the different musicians…. What a momentous occasion!"
"I came to the concert at Bristol Cathedral on Saturday night and was impressed by Silver Rose.  What a sensitive and powerful piece of music you have created which really reflects the feelings and thoughts of the texts of the five poems….  Another aspect of your music which really struck me was the clear and interesting textures to the sounds you have conjured up."
"It was a great pleasure singing Silver Rose with the whole team on Saturday. I genuinely find the piece really moving. Many thanks for the wonderful arrangement."
"To hear Silver Rose and the wonderfully varied programme in such a setting was very special and moving."
"a privilege to take part in such an exciting venture as Silver Rose."
"It was brilliant Liz. I take my hat off to you!"
"Congratulations Liz. A fine evening. Well done. You have created a great project from a small grant."
"Just wanted to say that the much-used word 'inspiring' was absolutely the right word on Saturday - ours was the privilege to be part of such a wonderful event"
"WOW!!! JUST WOW!!! That was one of the best concerts that I have ever been involved in. The atmosphere was incredible…."
Specifications
Formation:
Brass band, narrator, choir (SATB), piano (4 hands), Eyegaze 1 (Clarion), Eyegaze 2 (Clarion), Linnstrument
Grade:
Championship / first section; community choir; varied
About the composer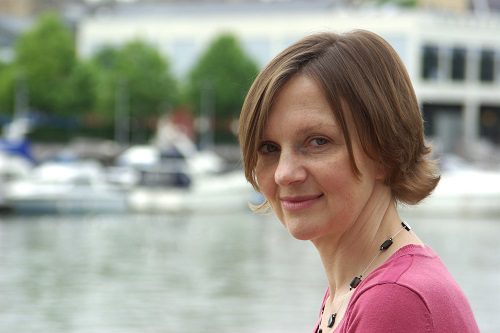 Liz Lane
Liz Lane is a British composer whose music has been described as "creatively brilliant [4barsrest.com], "easily appealing, yet musically reputable" [Musical Times] and "spell-binding... touched the very core of one's heart" [David Fanshawe, composer and explorer]. Her style is frequently melodic but seldom predictable, with an appeal that enables her to write for performers of all abilities and diverse occasions. Liz's music has been broadcast on BBC1, ITV and Radio 3, and her many diverse works to date have ranged from a fanfare based on bugle calls from the American Civil War premiered in Virginia, USA; a 40th wedding anniversary song cycle, recorded and performed at a surprise party and a full length ballet for the London Children's Ballet. Liz's acclaimed first substantial work for brass band, 'Silver Rose', was written in 2014 to commemorate the anniversary of the start of World War 1, and premiered by Lydbrook Band, conductor Ian Holmes, with narrator Robert Hardy CBE at Bristol Museum and Art Gallery, since receiving several repeat performances including Aldeburgh and Birmingham. It was re-written in 2016, with research support from the University of the West of England where she is a part-time Senior Lecturer, for the first performance of the South-West Open Youth Orchestra, the UK's only disabled-led regional youth orchestra and subsequently winners of the RPS Music Award – learning and participation. 'Innovation 216', celebrating Bristol's aviation history, was premiered in 2016 by massed bands and choirs of 270 aged 8-80 at St George's Bristol and will receive a repeat performance at the hall's re-opening in February 2018. 'Antiphonary', inspired by Berkeley Castle in Gloucestershire, England, has been performed at Barcelona and Murcia Cathedrals, by Foden's Band at Bury St Edmunds Festival and Frank Renton's Brass Machine at the Butlins Mineworkers Contest in 2017. Her most recent work, 'Tide and Time', will be premiered by Foden's Band at the RNCM Brass Band Festival in January 2018.
More from this composer