 Symphony no. 2 – La Commedia
This piece is based on Dante's epic poem La Commedia, with each of the three movements corresponding to one canticle; as such, a basic knowledge of Dante's work will no doubt prove most useful in approaching this piece. Rather than invent my own vision of hell, purgatory, and paradise, this piece attempts to musically represent Dante's vision in three separate ways. The first movement directly represents, or in some cases commits, the sins associated with each of the nine levels of hell. The second movement is meant to be the hymn sung by the faithful as they travel up the mountain towards redemption. The third movement is a musical depiction of the journey through paradise, culminating in meeting the divine. The composers' names in the score and parts towards the end of the movement correspond to the latter part of Dante's journey, when he sees the saints on either side of him: I thought it appropriate to imagine which compositional saints I might see, if I were in Dante's shoes.
About the composer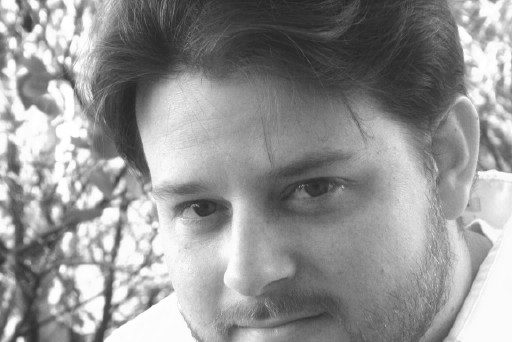 Brett Keüper Abigaña
Brett Abigaña's music has been performed throughout the world, and his music has been commissioned and performed by numerous performers including The United States Navy Band, flutist Hilary Abigana, ALEA III, The Afiara String Quartet, The Webster Trio, The Fourth Wall Ensemble, The United States Army Field Band and Soldiers' Chorus, and The Cape Cod Symphony Orchestra. He has gained a reputation for writing expressive, colorful music, and is much in demand as a guest lecturer, clinician, and conductor. Mr. Abigaña completed his Bachelor and Master of Music degrees at The Juilliard School where he studied with Samuel Adler and Robert Beaser, and received his Doctorate of Musical Arts from Boston University where he studied with Samuel Headrick and Richard Cornell. Other studies include composition, harmony, and counterpoint with Narcis Bonet, Michel Merlet, and Philip Lasser at La Schola Cantorum in Paris, as well as conducting with Judith Clurman, and ear training with Mary Anthony Cox. In 2011, Mr. Abigaña was commissioned by the United States Navy Band to write his Symphony no. 1 – Omnes Gentes. This work is written for wind band, antiphonal trumpets, soprano soloist, chorus, and organ, and was premiered in 2012 by the United States Navy Band under the direction of CAPT Brian Walden in Washington, D.C. Since then, the Navy Band has commissioned Mr. Abigaña again to write As The Wood Smoke Rises, for release on their 2014 album, Sea Interludes, and for premiere at the 2014 Midwest Band and Orchestra Clinic. In 2011, Mr. Abigaña had the honor of having one of his works for band, Petite Overture, named one of the top 11 pieces of 2009 by British conductor, educator, and wind band authority Tim Reynish, after it was premiered at the 2009 World Association of Symphonic Bands and Ensembles (WASBE) Convention in Cincinnati, OH. In 2015, Mr. Abigaña was commissioned by the World Youth Wind Orchestra to write his Symphony no. 2 – Commedia, which was premiered at the 2015 WASBE Convention in San Jose, CA. The piece is based on Dante's Commedia. Mr. Abigaña is on faculty at Boston University Academy, and his large ensemble music is published by World Projects.
More from this composer